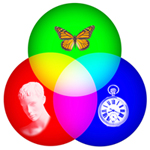 Harnessing the Power of Human Ingenuity
Every day the game changes because somebody, somewhere, is inventing the next new thing. People are naturally clever and adaptive but our need for order and control can shut down any human ingenuity. There is a way to have it both ways. You can have order and you can have ingenuity.
For more information about this keynote talk call us at 720-934-7667 or send email to steve.wille@ColorfulLeadership.info
---
The 3 Great Agile Challenges:
When you introduce agile to your organization, keep in mind three essential differences that must be respected. You will move from sequential to random timing. Teamwork will move from alignment to collaboration. Scope will move from exact requirements to a prioritized open backlog. This will create some challenges for people used to the waterfall culture. To get the full benefits of agile you must embrace these differences.
---
White Paper: Simplicity Complexity and Compromise
Simple answers to complex problems are often wrong, but useful
White Paper: Mashup of waterfall, agile, and lean project managmeent
White Paper: Zero Sum Games, Agile Vs. Waterfall
YouTube recording of this presentation from Mile High PMI Symposium 2017
White Paper: Agile, Waterfall, and Lean: Emerging Trends in Project Management
Short Video: Who is Steve Wille and why should I care?
Video: Think Fast, Act Faster - Management and leadership in the Agile World
White Paper: Think Fast, Act Faster - Management and Leadership in the Agile World
Video: Harnessing the Power of Human Ingenuity
White Paper: Harnessing the Power of Human Ingenuity
Book: Colorful Leadership
Article in the Denver Post regarding PMI Roundtable event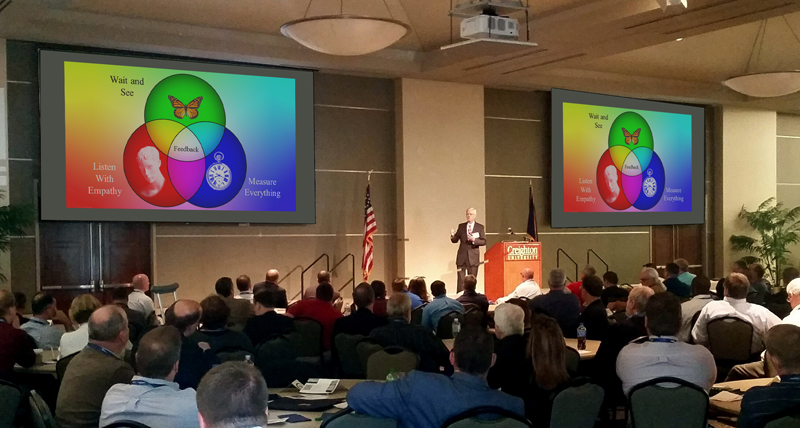 Steve Wille at IT Symposium, Creighton University, Omaha, Nebraska
Steve Wille has delivered keynote speeches for our IT Symposium series in Denver, San Antonio, Salt Lake City, and Omaha. Not only does Steve deliver high-quality content- he does it in an entertaining and thought-provoking way. As a company that solely produces IT events, we know that the content and quality of speakers is what ultimately what keeps people coming back year after year, which is why Steve has spoken in several of our events. A quick scan over the audience while Steve is speaking shows a captivated audience, never preoccupied with their cell phones, tablets or laptops- we attribute that to the level of speaker that he is. Steve's leadership presentation always provides actionable information that you can take to your organization, and any executive in any role would be better off for hearing his message.
---
Jeff Hinds
EFM Events
Steve speaks with incredible passion and enthusiasm which then becomes contagious. Beyond personally applying his leadership principles, I have shared his observations and knowledge with others on many occasions. I find his thoughtfulness and cultivating nature quite refreshing and also revealing. Steve captivates his audience with boundless charisma while providing tremendous insight in building the proper environment to successfully manage people.
Mark Buttice
Chief Information Officer, Information Technology
Mountain States Employment Council
---
Hello Steve, I recently attended your workshop on Zero Sum Games – Agile vs. Waterfall. After going to that PMI meeting for 10 years, I can honestly say that your workshop in in the top 5 best workshops. You not only greeted people at the door, you asked for questions, and interacted with the audience. It seems like you made the most of every minute. As a participants it was worth every minute. I will be reading you book Colorful Leadership with a great deal of interest. Thank you for making your presentation available on your web site. Much appreciated.
Henrik Sommer
Sr. Project Manager
Contractor to USDA|OCIO|EAS
---
About this keynote presentation
People and process are the two basic building blocks of management leadership. The trouble is, you can have happy people doing a great job, and still go out of business because the world keeps changing. Careers and organizations come to an abrupt end when traditional skills no longer matter. There is a third discipline that is very different from the first two. Human ingenuity adapts to a changing world and invents the next new thing. Without ingenuity every organization, and every career, is in a death spiral of diminishing returns. How do you build an environment where human ingenuity flourishes, and still maintain the world of quality process and human dignity? The answer is to do all three well.
In this presentation, each of the three disciplines, people, process and human ingenuity, are explored and validated through historical studies. There is a standard academic body of knowledge supporting the people and process disciplines. This is traced forward from the early twentieth century when scientific management delivered gains in productivity that lifted the wages and standard of living for people at all levels of society. The Hawthorne studies are used to demonstrate the shift of management studies into the human relations era. Through these studies researchers learned that there was a great deal more to productivity than finding the one best way to do each task. People could mysteriously become more or less productive regardless of the physical conditions. The ingenuity discipline in our model traces its history back to Edward Lorenz's explanation of the butterfly effect which brought in the era of complexity theory, also known as chaos science.
Our proposal is to master all three disciplines, so you can think in three dimensions and act strategically in any situation.
Take-Away
Respect, feedback, and team engagement are explored from the three perspectives of process, people, and ingenuity. Each perspective takes the leader in a different direction and the art of successful project management is to do all three, even when they appear to be in conflict. We will offer specific techniques for doing all three in any situation.
This material will work both as a keynote talk and as a breakout workshop. Steve Wille is an experienced conference speaker, as well as a workshop facilitator.
"You have an absolutely unique view and approach to the dilemmas of leadership called Colorful Leadership. I will tell you that in 12 years of featuring a broad array of leaders, I have never come across anything remotely like your approach."
Linda Hatcher, Editor, Leadership Guide Magazine
Read the recent interview with Leadership Guide Magazine

Colorful Leaders take a disciplined look at situations from three perspectives, one at a time, and then act appropriately based on the complete picture. It is based on the additive color process that makes every color television work. Red, green, and blue lights combine to create white light, and a full spectrum of colors, forming a beautiful high definition image.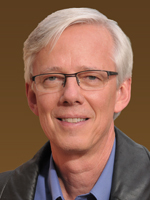 Steve Wille, is an experienced information technology executive having worked for large corporations in many roles including software development, project manger, director of application development, vice president of corporate information systems, and senior vice president of a business division. He is affiliate faculty at Regis Unversity where he deveoped a graduate level course in Agile Development which he teaches..
His book, Colorful Leadership, focuses on three perspectives of project management, people, process, and innovation. He has written and facilitated workshops on project management, business analysis, high performance project teams, and constructive conflict.
Steve is a PMP (Project Management Professional) and has developed multiple large information technology systems from the ground up.
Steve is active in the Colorado IT community as a board member of SIM (Society for Information Management, president of RMIMA (Rocky Mountain Information Management Association), and an active member of Mile High PMI (Project Management Institute). He serves on the Regis University IT advisory board.
His MBA is from Regis University and his BSBA is from the University of Denver.
Linkedin: www.linkedin.com/in/coloradowille/