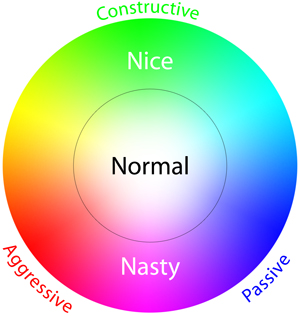 Project Conflict
Normal, Nasty, or Nice?
View our webinar on project conflict
The Colorful Conflict model helps you to quickly assess the level of conflict and offers techniques for moving it from destructive to constructive conflict.
Conflict is an essential part of every project. It may be normal, nasty, or nice, but there will be conflict. Every participant has a different set of needs and expectations. Somehow, you have to pull it together, and if you fail, the project may fail due to lack of support from key stakeholders, especially if the conflict turns nasty. If there is a lack of conflict because everyone is being nice, it is likely that some important issues are not being surfaced in a timely manner, and there will be a long term price to pay. To be a great project manager, you must add conflict to your plan, encouraging constructive conflict before any destructive conflict sets in.

The Colorful Leadership conflict model uses material developed and tested by Human Synergistics. It zeros in on workplace conflict, identifying aggressive, passive, and constructive patterns. There is no attempt to end the conflict because that cannot and should not be done. Instead, it focuses on techniques for turning the nasty stuff into constructive conflict that works to the long-term benefit of all participants. Conversely, if people are being too nice and too passive it identifies ways to turn up the heat a bit, encouraging some debate.